International Women's Day | Lisa Hamilton, Deloitte
07 Mar, 2019
5 minutes
Lisa is an Associate Director in Deloitte's Cyber Risk practice based in London with o...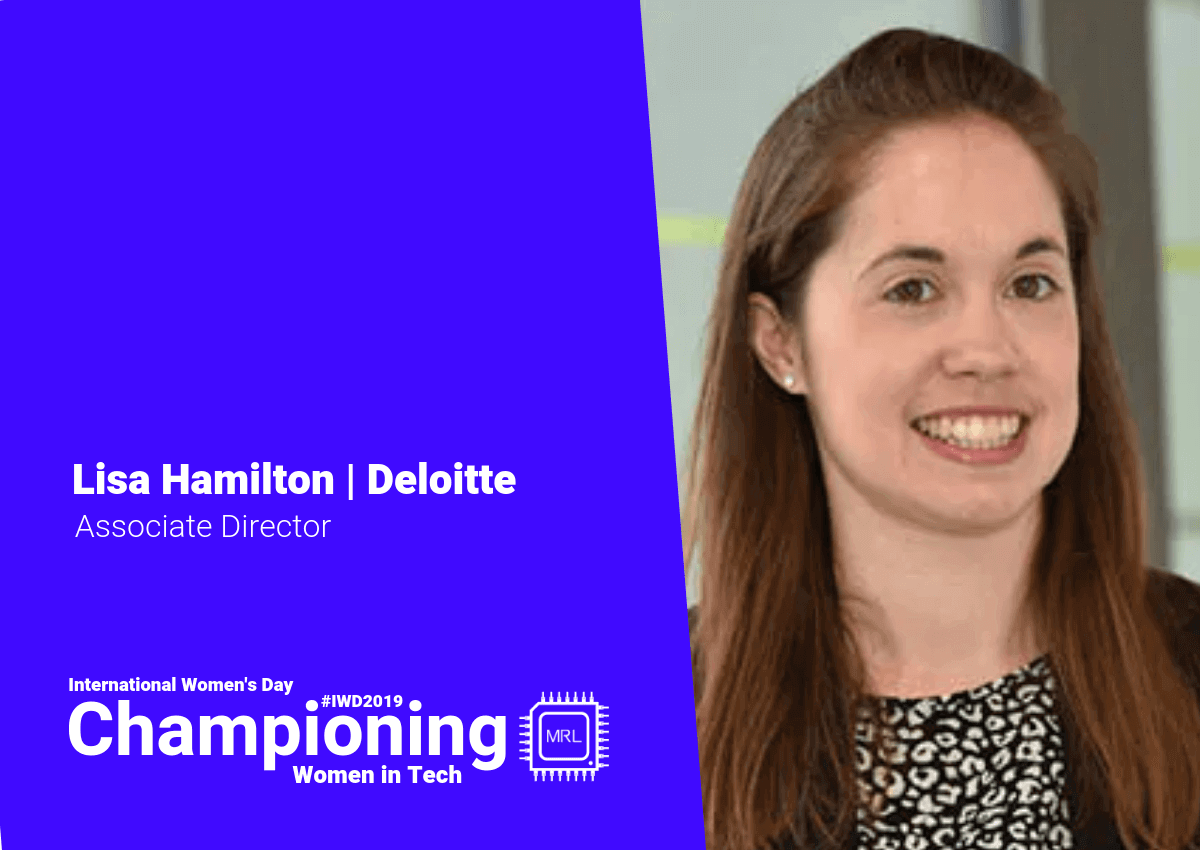 Lisa is an Associate Director in Deloitte's Cyber Risk practice based in London with over 12 years of experience working in the cyber security industry and she has an MCs in Information Security. She focuses predominantly on large scale cyber transformation programmes for clients within financial services. She has a significant amount of experience working on cyber security strategy, risk management and cloud transformation programmes.
Lisa leads Women in Cyber initiative at Deloitte and has developed this over the last 4 years, within the UK and across EMEA with the goal to promote gender diversity in the Cyber Security industry. She was listed most recently in SC magazine as one of the 50 most influential women in cyber-security UK.
We spoke to Lisa about what Tech and International Women's Day means to her....
Starting from the beginning - What made you get into Tech?
I wanted to join an industry which was growing and in demand. I had seen vast changes in technology and thought it would be an interesting area to pursue a career in. From a practical perspective, ultimately I wanted to study a degree which would result in a job at the end of it and with the growth in IT, I thought it would give me options and flexibility on industry and areas of specialism.
Who has inspired you within your career?
Lots of people!​ I have inspirational role models in the industry, male and female, who have been successful in their careers.
What's the one thing you love about your job?
I love the variety and the breadth of the work in which we do in consulting. No two days are the same. We tackle some of our client's biggest challenges which makes each day different, for example, working in cyber strategy, cloud implementation programmes, and resilience projects show the breadth of our work and this is for client of all sizes. In addition, I lead Deloitte' EMEA Women in Cyber initiative which is about creating gender diversity in the cyber security industry, I am really passionate about getting more women into the industry and we have a programme of activities on pipeline of the next generation, building strong networks and supporting our team.
This year's hashtag for International Women's Day is #BalanceforBetter. What does this mean to you?
The need to have gender balance in the workforce. Studies have shown the value of diversity, everyone has a role to play in making this happen, and building a gender balanced future.
Why do you think there is a lack of Women in the industry?
There is a lack of women in the cyber security industry due to a perception of what cyber security is. It doesn't help that the media around any breaches or hacks tend to portray men in hoodies who are carrying out attacks! I think for some women they self-select out because they don't realise a career in this industry is an option. They make assumptions about the skills needed.
What one thing could the industry do to champion Women?
To actively engage in the diversity efforts taking place to champion women in cyber, build diverse teams and an inclusive culture.
What barriers have you had to overcome from being a Women in the industry?
I found when I started my career I was the minority and at some meetings found it challenging to speak up and voice my opinion. In my head I felt like I shouldn't have been there.I think a lot of this was imposter syndrome and not anyone else's opinion. Experience has increased my confidence and helped me to realise I am there for a reason.
How can businesses become more 'diverse and more balanced'?
Everyone needs to do their bit:

As an industry we need to be less prescriptive of requirements to get into the industry, not everyone needs to have completed a degree in computer science.

Provide support to each other, build your network and use this when you need to.

Give something back, get involved in inspiring the next generation, get out to schools and be a role model for others.
Your job at Deloitte sounds very varied, what are the main perks working there?
The job has a lot of variety which means you get exposure to working in lots of different areas of cyber security. It is also very entrepreneurial; if you have a good idea, get support and buy-in then it is down to you to make it happen which I love.
And finally, what advice would you give to any female starting in this field?
If you are enjoying what you do and are making a difference, you are much more likely to be successful

Take responsibility for your career and think big about what you could do, follow your instinct and listen to others around you.
If you would like to listen from any of our other inspirational women we spoke to, please click on the photos below.