What are the Most In-Demand Skills & Jobs in the EV Industry
28 Sep, 2023
5 minutes
What are the Most In-Demand Skills & Jobs in the EV IndustryWith growing environmental a...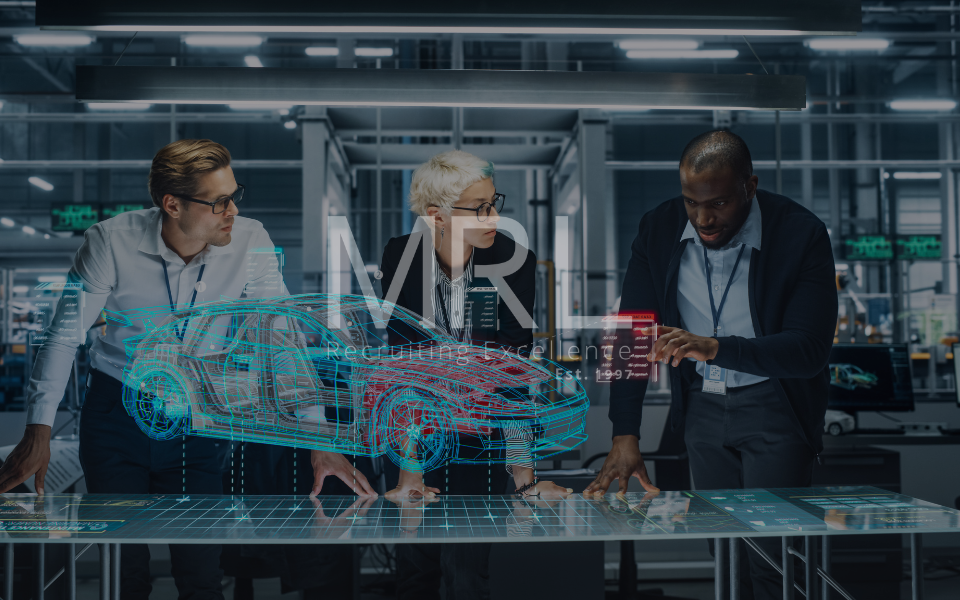 What are the Most In-Demand Skills & Jobs in the EV Industry
With growing environmental awareness and advancements in technology, the EV industry is surging forward, redefining transportation as we know it. This shift brings with it a demand for skilled professionals who can navigate the complexities of this fast-evolving field.
In this article, we take an in-depth look into the predicted growth of the EV industry as well as the corresponding jobs and skill sets that are expected to become increasingly vital in the future.
EV Industry Growth Expectancy
The EV industry is growing at an unprecedented rate. In 2022, approximately 10 million electric vehicles were sold globally, with (IEA) estimates putting 2023 sales at around 14 million cars - that's 35% in growth. The EV percentage share of the market has also shown impressive growth, increasing from 4% to 14% between 2020 and 2022.
Industry experts believe electric cars are just the start, stating that electric buses and trucks are expected to become the norm as well. If this trend continues, vehicle electrification could lead to a reduction in oil demand by as much as 5 billion barrels a day by 2030.
When zooming in on domestic markets, the above growth trends remain true. Currently, China boasts the largest share of global sales at 60% (2022). Europe boasts the second largest share and the US third. However, in 2022, the US showed impressive growth in EV sales of 55%.
This is due to numerous factors. As mentioned above, consumers are increasingly looking to purchase goods that have a positive environmental impact.
Additionally, technological advancements have lowered barriers to entry for car manufacturers, making electric vehicle manufacturing less costly. This, in turn, has resulted in car manufacturers developing more affordable EVs, making them more accessible to a wider variety of consumers. Government initiatives, such as tax incentives, have also acted as a catalyst for growth.
Considering past performance and influencing factors, it's likely that the EV industry will continue to grow at an unprecedented rate. Analysts' insights also support this, with organizations such as Statista stating that the electric vehicle market is projected to grow (CAGR 2023-2028) by 10.7%, which would bring projected market volume to US$906.7bn by 2028.
Must-Have Skills & Jobs in the EV Industry
Considering the exponential growth potential of the EV industry, it should come as no surprise that job opportunities in this industry are growing as well.
According to the U.S. Bureau of Labor Statistics, these job opportunities will span several areas, including the design and manufacturing of electric vehicles, EV battery production, as well as the development and maintenance of charging stations and networks. Thus, job prospects will be available to both educated and those with lower educational qualifications.
EV Design & Manufacturing
Both computer and engineering roles will be needed in the design and manufacturing of electric vehicles.
Computer scientists and software developers will support the creation of software and hardware needed to run electric vehicles. As technology develops, they will also be responsible for upgrading these systems to ensure that the software needed to control these vehicles operates efficiently.
Various types of engineers will be needed during the design and development of electric vehicles. For example, mechanical engineers will play an important role in designing brakes, motors, and other mechanical components, while safety system engineers will be responsible for developing and installing sensors (such as LiDAR) and cameras.
EV Battery Production
The manufacturing of electric vehicles also brings with it a demand for new components, with one of the most vital being batteries and chargers. The expected growth in this area will create a variety of job openings, ranging from assembly line workers who put batteries together to engineers that improve battery performance and storage capabilities.
Development & Maintenance of Charging Networks
Electric vehicles cannot function without having the right infrastructure in place. This will require the installation of charging stations in both residential and public settings.
Electricians and other electrical-related professionals are some of the professionals that can expect an increase in job prospects. Projections estimate these jobs to grow by 7.1% between 2021 and 2031, which is higher than the average for all occupations.
However, these are not the only occupations that can expect this. The creation of public charging stations is far more complex than home installations and also requires significantly more planning and infrastructure development. Therefore, professionals, such as urban and regional planners and construction laborers, can also expect a boost in job opportunities.
Final Thoughts: EV Industry Growth & Job Prospects
In conclusion, the electric vehicle (EV) industry is experiencing rapid growth. With increasing environmental awareness, technological advancements, and more government incentives, the industry growth is only expected to continue.
This growth translates into a range of job opportunities across various sectors of the EV industry. Professionals skilled in computer science, software development, and engineering will be crucial for EV design, manufacturing, and safety systems.
However, less qualified personnel, such as assembly line workers, electricians, and construction laborers, will also be needed for elements such as battery production as well as infrastructure development and maintenance.
At MRL, we collaborate closely with automotive industry leaders, including those involved in electric vehicles. If you're interested in pursuing a career in this dynamic field, don't hesitate to reach out to our team for further guidance and information.