Will sparks fly at this year's Battery Show? 8 Companies you MUST visit!
24 Apr, 2019
5 minutes
It's nearly that time of year when over 8,000 professionals from all over the globe make...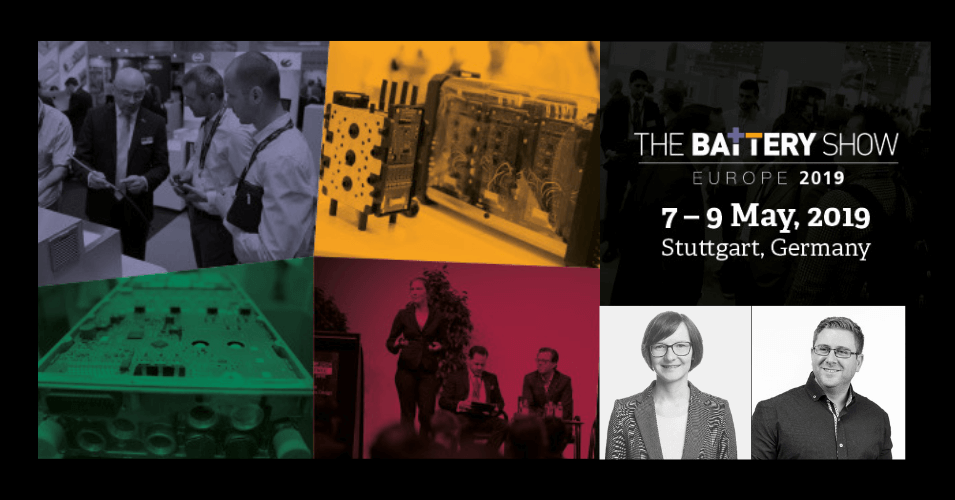 It's nearly that time of year when over 8,000 professionals from all over the globe make their way to Stuttgart, Germany and visit The Battery Show, the largest trade fair for advanced battery tech.
Hosted in the region of Germany which is known as the 'birth place of the car', it's the perfect location for you visit service providers and manufacturers across the complete battery supply chain. Between the 7th-9th of May, over 450 exhibitors will be showing off their latest products and solutions alongside an expert lead conference giving people direct insight and discussing challenges both technical and functional….it's the go-to place for anything Battery.
With hundreds of businesses to visit this year, we've hand-picked a few which shouldn't be missed....
Mahle
Dubbed as one of the 'pioneers for the mobility of the future', Mahle is one the largest automotive suppliers, servicing companies across the globe with a focus on engine systems, filtration, electrics, mechatronics, and thermal management.
Last year saw Mahle open the UK's first state of the art real driving emissions test center. The center will allow manufacturers to test their brand new automobiles on a new 4WD chassis dyno whilst being able to test for weather conditions including altitude and climate.
With a big focus on Powertrain for Mahle, this year they announced the acquisition of transmission specialist ZG-Zahnräder und Getriebe. With Mahle continuously looking to improve the electric drivelines and the Powertrains capabilities, this acquisition has come at a crucial stage. We're really looking forward to finding out more about this.
Valeo
Based out of France is also a global automotive supplier. With over 113,000 employees based in 33 countries across their production plants, distribution platforms and R&D Centres, Valeo's core strategy is to focus on development and innovation.
With a recent €44m in R&D in Tuam, Valeo is working on some of the latest technologies in AI and Deep learning in AVs (autonomous vehicles). Their meticulous approach means we will see disruptive advancements in AVs very soon…
Valeo has also been praised on their recent approach to gender equality where they pledge to eliminate the growing global issue of the gender pay gap and promote more women in key corporate positions.
Autoliv
With safety being the biggest driver in the automotive industry right now, Autoliv is the biggest safety supplier to all of the leading car manufacturers across the globe. Ranking #289 on the Fortune 500, they are amongst the largest Tier 1 automotive suppliers.
Autoliv has 19 test tracks around the globe. This year saw the announcement of 'Safety Score'. A brand new innovative mobile phone application to help people of all ages become safer drivers. They will be able to monitor real-time behavior and generate a driver score.
With over 66,000 employers across 27 countries, we are looking forward to seeing what new products Autoliv produce.
Valmet Automotive
Based in Finland, Valmet Automotive are a service provider and contract manufacturer, with a focus on engineering, EV, convertible roof systems and vehicle manufacturing. Working with top brands like Saab, Porsche and Ford shows they are a force to be reckoned with. To top this, 2016 saw Valmet Automotive being named 'Best partner company' with Mercedes-Benz.
2018 was a big year for Valmet Automotive. 20% growth in sales and profitability saw huge improvements. In its 50th year, we saw Valmet Automotive produce 110,000 cars and completed the 100,000th Mercedes-Benz GLC.
2019 will see Valmet Automotive launch a brand new battery plant in Salo meaning a big push in recruitment. It's estimated they will hire 1000 employees in 2019.
Lithium Werks
Lithium Werks is a fairly new company, established in 2017. Since then they have acquired Valence Technology and the industrial division of A123 Systems. A big plus for Lithium Werks is that they own their very own factories in China giving them full ownership of stock and distribution.
They have been supplying batteries to a variety of industries such as Energy Storage, EV and Robotics across the US, APAC and Europe. Recent news saw them signed a long term contract with Johnson Matthey, who are business that provide raw materials to ensure the longevity of production.
Voltaiq
Voltaiq is a developer of a battery intelligence software platform, which allows battery engineers to properly manage and analyse data they receive on a daily basis. Originally started in the consumer electronics market, they are now focusing on automotive, energy storage and EV grid charging applications.
Voltaiq has recently partnered with a global manufacturer of lithium batteries and has received numerous amounts of funding over the past couple of years. Have worked closely with Big 3 auto OEMs in US, Voltaiq is now focusing their attention to more disruptive companies in CA as well as entering the European market.
Delta Q Technologies
Delta Q Technologies are a Canadian company who are expanding their European presence.
Delta Q Technologies manufacture industrial battery chargers for both lead acid and lithium-ion batteries for a variety of applications such as forklift, golf carts, access platforms and power sports. These chargers provide maximum up-time and reduce cost of ownership, globally more than 1.6M industrial machines use their chargers.
They recently showcased their ICL Series of lithium battery chargers; the ICL 1200 and the ICL 1500 in 85V and 120V models
Akasol
Akasol is a leading developer and manufacturer of high-performance battery systems for a wide range of applications. Akasol are currently partnering with Daimler, Bombardier Transportation and Rolls Royce. They have recently announced they are expanding into marine and stationary applications.
With a brand new state of the art facilities just south of Frankfurt, Akasol state of the art scalable battery systems means there is no limit as to what they can achieve. New additions to the Senior Management team means Akasol are utilising some of the best minds in the industry to achieve growth targets.
------------------------------------
MRL Consulting Group is going to be at the Battery Show between the 7th-9th May. Our recruitment specialists are visiting existing clients and speaking to potential recruitment partners. Our specialist consultants focus on recruiting within the Battery, Automotive and Semiconductor industries.
The below consultants will be at this year's show :-
Chris Percival
Consultant
chris.percival@mrlcg.com
T: +44 1273 320 860 Mob: +44 7917 809126
Sara Meyer
Consultant
sara.meyer@mrlcg.com
T: +49 351 438331 13